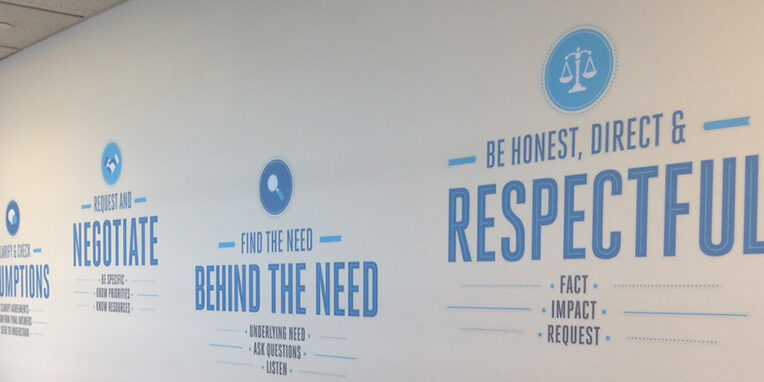 Financial Services Advisory (FSA), a wealth management firm with over three decades of experience, wanted its team to never forget the importance of the firm's core values. So FSA commissioned Spring13 to design graphics for a "wall of values."
Since the wall of values was for the firm's internal staff, our approach was to create playful visuals while incorporating the FSA brand. Working with a New York illustrator, we came up with fun, memorable icons for each of the eight core values.
An office space filled with positive energy
The result: Values that can't be ignored and will certainly be remembered. Running across a long, main wall, FSA's values are a clear focal point. The fun, playful visuals also infuse the space with encouragement and positive energy.
The wall of values caps off Spring13's successful rebranding of FSA. Two years ago we did a complete rebranding, including new brand positioning and messaging, and revamping FSA's logo, tagline, color palette and typography. The rebranding was such a hit that several wall murals featuring the new brand were also rolled out throughout FSA's office earlier in the year.