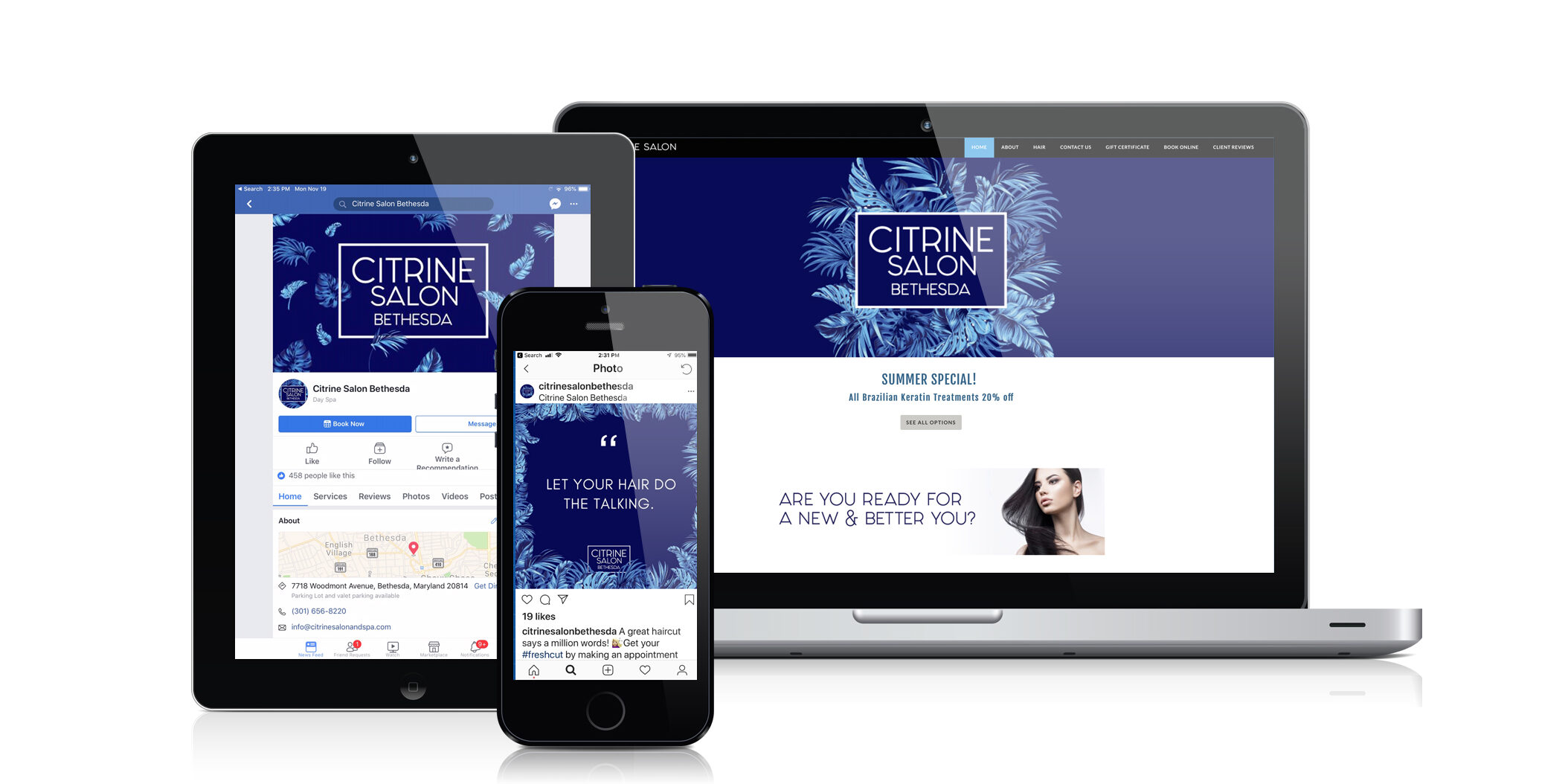 Citrine Salon Bethesda – a high-end hair care and make-up salon in Bethesda, Maryland – recently approached Spring13 to re-invigorate their brand with an updated look and feel. Owned and operated by a third-generation Brazilian hair stylist and serviced by the most talented industry professionals in the Washington, D.C. area, Citrine offers a range of makeup services and hair treatments, including the luxurious Brazilian Blowout, which is one of their most well-known techniques.
Competing for high-end clients in the trendy Bethesda area of Montgomery County, Maryland had proven challenging for Citrine Salon, as there are more than 30 similar hair and make-up salons in the area. Therefore, the salon was in great need of an updated brand to freshen its look and distinguish itself from the vast competition.
Starting from the "roots-up," Spring13 rebranded the company with a new tagline and messaging, as well as a fresh look across on- and off-line materials. Spring13 accomplished this by highlighting the owner's Brazilian heritage and weaving this cultural tie throughout the marketing campaign. Citrine's new cutting edge logo became the visual cornerstone of the brand – as "Citrine" is quite literally a rare gem found in Brazil. Spring 13 crafted a free-flowing, voluminous look that exemplified natural beauty and healthy hair by combining Citrine's powerful name with Brazilian flora and fauna native to the Amazon and extravagant feather-adorned Carnival costumes. The result was a transformative, high-end appearance that elevated the salon's branding within the market.
Another focus of Spring13's rebranding efforts centered upon the salon owner's generational craftsmanship and expertise in Brazilian hair styling techniques. Citrine was one of the first salons in Montgomery County certified to perform the Brazilian Blowout, as the salon owner learned the technique in her home country, prior to its availability in the United States. Communicating this expertise was another integral part of Citrine's new and improved brand.
After a newer, stronger brand was formulated, business collateral was designed, the website revamped, social media channels were optimized, and in-store promotions were created. These elements worked together to create an exciting, empowered and synergistic new brand for Citrine Salon.
Since launching in May 2018, Citrine Salon has become a more invigorated business with a new image in the marketplace and has gained unprecedented social media awareness, specifically through its Instagram channel. Spring13 helped Citrine Salon achieve a 99.3% increase in the average post reach; an 85% increase in the average post impression, and a 99.2% increase in the engagement rate compared to the average industry benchmark for salons and hair care companies. By partnering with Spring13, Citrine Salon was able to differentiate their business in a crowded marketplace, raise awareness of their services and build a better brand – which has ultimately led to increased profits for this gem of beauty business.