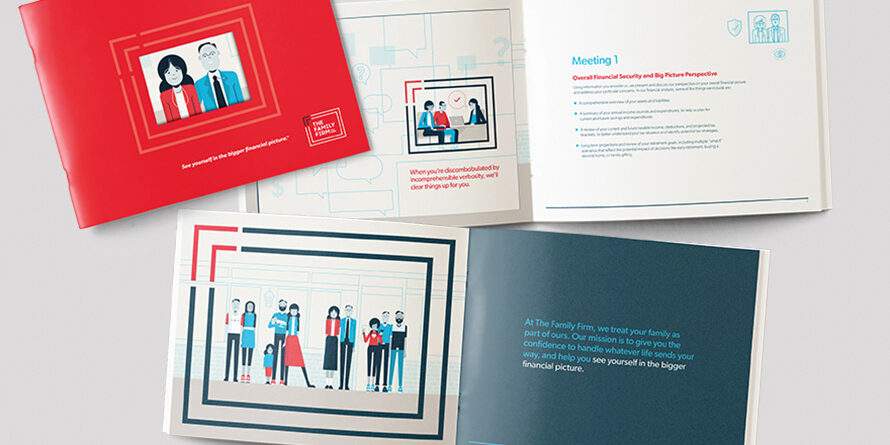 Recently, Bethesda-based wealth management firm "The Family Firm" engaged Spring13 to develop a comprehensive company rebrand that was fresh in style, inclusive of all family types and played off the existing "Family Firm" name.
The Family Firm was looking for an established marketing agency that could manage their rebranding process completely – from conception through production. Over the past 10 years, Spring13 has helped 10 different wealth management companies from across the nation find their unique footprint in this crowded industry. Given the past success in this space, Spring13 was a natural fit for the job.
Overall, The Family Firm needed a new approach: their old marketing materials were outdated and impersonal, yet they needed to be light and fresh and attractive to all family types. Spring13 began by developing new positioning statements and a new tag-line for the client: "See yourself in the financial picture." This line, along with illustrated images of picture frames and different types of families (traditional families, same-sex couples, singles etc.) appearing within the frames, cleverly appear throughout The Family Firm's new collateral materials.
Because wealth management principles can often seem difficult to understand, the client also wanted to incorporate language that was simple and straightforward with graphics that were lighthearted and fun. Knowing this, Bronwen and her team proposed several illustration ideas to the client, and ended up choosing an uber-hip illustrator from South Africa who designed original artwork done in a retro/linear style that is very popular among today's trendy brands. This whimsical artwork was incorporated into the design of The Family Firm's new logo and was utilized throughout their new marketing materials such as brochures, folders, letterhead and notecards. The entire marketing program was comprehensively redesigned, written and produced by Spring13.
In the end, the established team at Spring13 was able to help The Family Firm reemerge as the fresh, family-friendly face of wealth management firms. From custom illustrations to complete brand overhaul, Spring13 was able to help this client "re-frame" their image and better reach new customers.