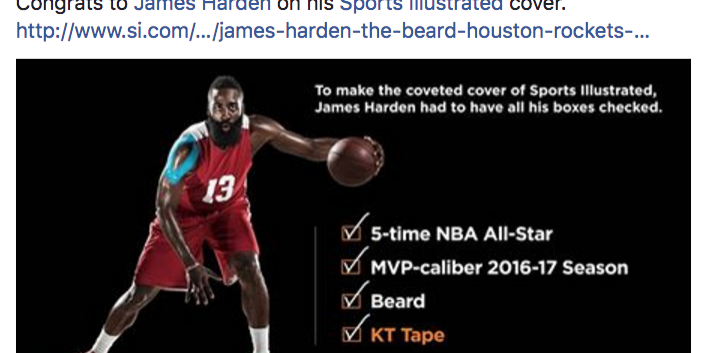 Spring13 is excited to launch KT Tape's social media campaign with its first post, congratulating five-time NBA All-Star James Harden, aka The Beard, for landing on the cover of Sports Illustrated, March 6 issue. A serendipitous beginning—the number 13 is both Spring13's and Harden's number—and we love that!
Spring13 was hired to help take KT Tape's social media to the next level by growing the company's following across Twitter, Facebook and Instagram and increasing the reach and engagement of its posts.
Spring13 is working in collaboration with Guillermo Rojas, Olympic advisor from Torre Consulting, to help coordinate KT Tape's social media marketing efforts and interaction with star athletes, such as NBA All-Star James Harden, Paralympic cyclist Joe Berenyi and Olympic tennis doubles champions Bryan Brothers.
Stay tuned for more exciting KT Tape posts in the coming days and weeks on Twitter @KTTape, Facebook and Instagram @kttape. Game on!