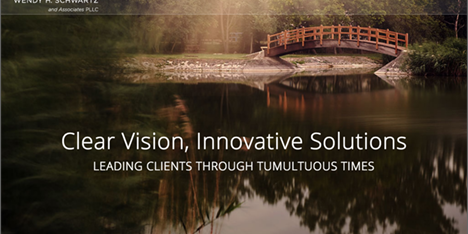 After Spring13's rebrand of Wendy H. Schwartz and Associates, a premier boutique family law practice located steps away from the White House with a prestigious client base, we were engaged to take the next step and build a new website for the firm. Founder Wendy Schwartz is recognized as one of the top divorce and family law practitioners in the Washington, D.C. region and is highly regarded for aggressive advocacy while providing attentive, compassionate counsel.
For the website, Schwartz wanted a clean, uncluttered site to reflect the firm's new contemporary brand—a brand that combines a sense of sophistication with a serene, collaborative feel. We selected peaceful, Zen-like images to create a calming effect for clients involved in the turmoil of divorce and child custody cases. Images of bridges represent the idea of attorneys helping clients through difficult situations and reach a better place on the other side. The colors on the site—the gold, blue and gray—are all tied to the firm's unified corporate identity, which Spring13 developed as part of the earlier rebrand.
Spring13 also provided photography management for new photos of the attorneys and support staff. This included scheduling the photo shoot with the photographer, who specializes in in-office portraits of professionals, and a makeup artist, as well as managing the shoot on-site and retouching the photos.
The result is a welcoming site, fully responsive to work well on all devices, that reassures clients with a pristine look reflective of the firm's polished personality. Finishing touches to the site are underway, so stay tuned for the site's upcoming launch, which is scheduled to go live any day. Our clients include a growing number of law firms that recognize how Spring13's fresh thinking and custom creative solutions can help them stand out from the pack and produce results.