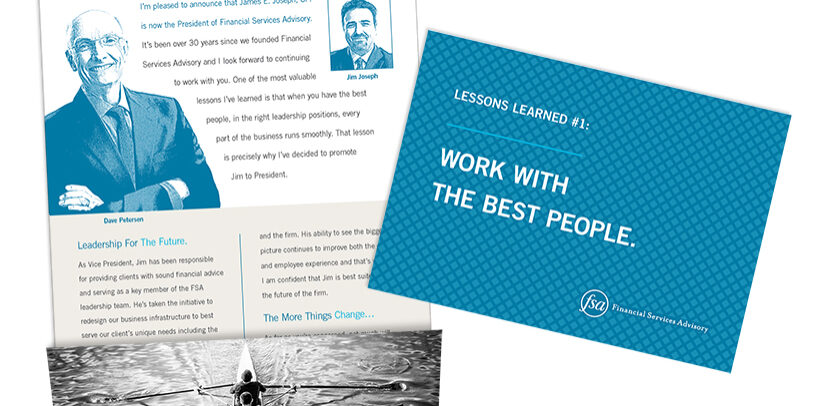 A longtime client, Financial Services Advisory (FSA), a wealth management firm with offices in Maryland and Florida, was planning a transition in leadership and contacted Spring13 to create a branded mailing to FSA's existing client base and centers of influence. The leadership transition was a sensitive matter, and getting the language just right was key to ensuring that existing clients had confidence in the involvement of the owner and founding partner, who had earned the trust of clients since FSA's founding over 30 years ago.
The Spring13 team tied the messaging of the mailing to FSA's existing "lessons learned" concept, a major theme of a big FSA rebrand and repositioning, which we developed for the firm a few years back and deployed in all media channels, including print, collateral and the web. The concept of the original campaign sprang from FSA's longevity. Not many wealth management firms can say they've been around for 30 years. We capitalized on FSA's lessons learned over the years to position the firm as a cut above the newer guys in town. For this piece, we spun that idea into the lesson learned about hiring the best people, such as Jim Joseph, and then introduced him and announced his promotion as FSA's new president. A self-mailer, instead of a standard business letter, was selected to break through the mailbox clutter and grab the recipient's attention. On the back of the mailer, the image of scullers rowing speaks to the concept of the FSA team pulling together and consistently working in the best interests of their clients.
The result is a piece that reassures clients in the continuity of FSA's leadership with a personal tone and appropriate gravitas. Spring13 has been FSA's valued branding and marketing partner since 2012, and the mailer reflects our deep understanding FSA's unique brand and messaging.